To Main News
Focus on Inspections: Above Ground Storage Tank Inspection
An Aboveground Storage Tank (AST) Facility or tank farm consists of tanks (including day tanks), piping, secondary containment and ancillary equipment.
These facilities are used to store fuel that will be dispensed at the site, delivered elsewhere, or transferred to other locations such as day tanks.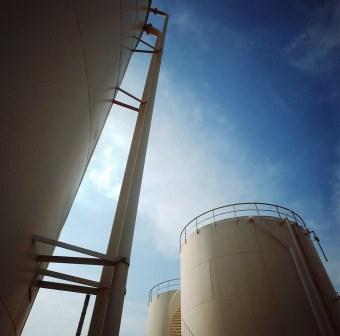 Most ASTs have cylindrical sides or shells and flat tops and bottoms. They are set vertically (on end) or horizontally (on sides). Most Tanks are constructed out of steel and older tanks have riveted or bolted seams and newer tanks are welded. These tanks are provided with Cathodic protection, such as sacrificial anodes, to reduce corrosion.
The In-Service Inspection code for atmospheric storage tank is API STD 653. This code covers the tank inspection, repair, alteration and reconstruction. The API STD 653 designated for atmospheric above ground storage tank inspection which it is built based API 650 but this may be used for any steel tank with specific consideration and operating details.
The other recommendation practices which is to be considered for Inspection of ASTs are API RP 651 for tank bottom plates' Cathodic protection system, API RP 652 for tank internal lining system, API RP 571 for damage mechanism, API 577 for welding inspection and metallurgy. Many of the design, welding, examination, and material requirements of API 650 can be applied in the maintenance inspection, rating, repair, and alteration of in-service tanks. However if there occurs a conflict between the construction code API 650 and API 653, the requirement of API 653 will govern as this is standard specifically addressed for Above Ground Storage Tank inspection for operating plants.
API 653 Above ground storage tank inspectors are qualified person for inspection of storage tanks as they are certified by API for such activities.
The Shell and roof of a Tank can be inspected by means of conventional Non-Destructive Testing methods. Commonly, Ultrasonic gauging is the used for thickness measurement of shell. The roof inspection is also a major part of Storage Tank inspection as corrosion of roof is seldom uniform. Both internal and external corrosion usually take the form of isolated attack that is governed by roof geometry, construction method, plate flatness and coating condition. Visual inspection is essential, but ultrasonic gauging can provide with vital information. Cutech conducts Ultrasonic gauging/ screening with remote access crawlers such as the range of Scorpion robotic crawlers or manual thickness gauges. The robotic crawler has a major advantage of avoiding the requirement for costly scaffolding or rope access.
Tank floors are less accessible and evidence of release remains largely hidden from view unless the extent of the release is large. The metal bottom of a tank can generate a disproportionate inspection and maintenance effort compared with its initial cost. A more common failure mechanism in Tank Floor is leakage through the floor damaging the tank foundations, which could lead to instability and eventual catastrophic failure. Cutech's uses some of the most advanced methods to inspect tank floors using MFL technology.
Our above ground storage Tank Inspection service offers a complete line of services and engineering evaluations in accordance with applicable international standards.
Cutech's services range from new tank construction, on-line condition assessment, Shutdown Inspection and repair consultancy.
As part of Above Ground Storage Tank Evaluation Cutech offers the following services
Tank Foundation Evaluation
Settlements Evaluation
Tank Bottom Evaluation
Tank Shell Evaluation
Tank Roof Evaluation
Tank Access Evaluation
Tank security instruments check
Sludge Mapping
Magnetic Flux Leakage (MFL)
Ultrasonic Inspection
Rope Access Inspection
Crawler Inspection
To Newsletter page